I am self sponsoring the soap giveaway, but I'd still like to give credit to the maker. Paula Parrish has an amazing blog where she posts fun giveaways, awesome recipes, and great info! I'm sure you would all love her! So please, visit her blog here...
I have a bar of the Mucky Seaweed Soap that I've been using for a few weeks now, and I also have a bar I'm going to be giving away to the winner of my Spring Fever prize package. Do you want to know what I think the coolest thing about this soap is? I LOVE that Paula is a fellow Florida girl, and she actually collected the seaweed used in this soap from our beautiful beaches! How awesome is that?!?
Here's some info from Paula's site on her awesome
Mucky Seaweed Soap.
Close your eyes and recall the smell of seaweed drying on a salt water beach with fresh ocean breeze.
This Mucky Seaweed Soap Bar has the amazing natural properties of the minerals of earth and sea, so good for the skin. I wanted to create a soap rich in sea kelp and seaweed so this is the final product. Seaweed is packed with vitamins, minerals, trace elements, and amino acids that are essential in maintaining healthy and youthful skin. Sea kelp has more than 21 amino acids and 60 minerals and elements, including calcium, iron, iodine, and zinc. Sea kelp is also rich in Vitamins B12, C, E and K. In addition, sea kelp contains alkali, which helps to balance the body's ph.
The natural aroma of this soap comes from a unique essential oil blend to create a wonderfully fresh clean ocean breeze scent.
Rich in seaweed, this natural soap is packed-full of essential vitamins and anti-oxidants for your skin, plus an exfoliating seaweed scrub. Mucky Seaweed Soap softens the skin as you lather.
Skin Benefits of Seaweed:
restores moisture levels
revitalizes and firms the skin
nourishes
oxygenate and detoxifies the skin
reduces appearance of cellulite
balances
hydrates
is cell generating
purifying
re-mineralizes
absorbs easily
improves skin texture and tone
cleanses
soothes
slows skin aging
protects from environmental elements
contains antioxidants and beta-carotene
I added french green clay to this soap bar. French green clay acts like a sponge, removing impurities, dust, oil and dead skin. Pulling toxic substances from skin invigorates the complexion and tightens pores. It is naturally absorbent, it cleans, tightens, and renews skin cells.
Olive Oil ~ One of the best natural treatments that you can use for dry skin. It's light plus mild and has antibacterial properties.
Coconut Oil ~ The small molecular structure of coconut oil allows for easy absorption through the skin, giving it a soft, smooth texture. It makes an ideal ointment for the relief of dry, rough and wrinkled skin. Eczema suffers often see great improvements with coconut oil based soaps. Coconut oil has antifungal, anti-bacterial and anti-viral properties. It has wonderful antioxidant proerties that protect the skin from free radical damage. It is the ability to nourish and heal the skin.
Palm Oil ~ Protection against UV-induced skin damage and skin aging. Palm oil is very high in Vitamin E. Tocotrienols found in palm oil are useful as a sunscreen, containing compounds that reduce penetration of, or absorb of ultraviolet radiation. Tocotrienols in palm oil applied onto the skin are found to penetrate rapidly through the skin and in the highest concentrations.
Ingredients: Oil of olive, coconut oil, palm oil, pure distilled water, crushed seaweed, french green clay, sea kelp, black oxide and lots of love.
Soap Bar Size: 3 3/8 Long x 2 1/2 Wide x 1 1/8 Thick
I've been really pleased with her soap. I've been using it as a hand soap in my master bath, so I use it multiple times a day to wash my hands. They are soft and smooth, and I like the natural smell of the bar too.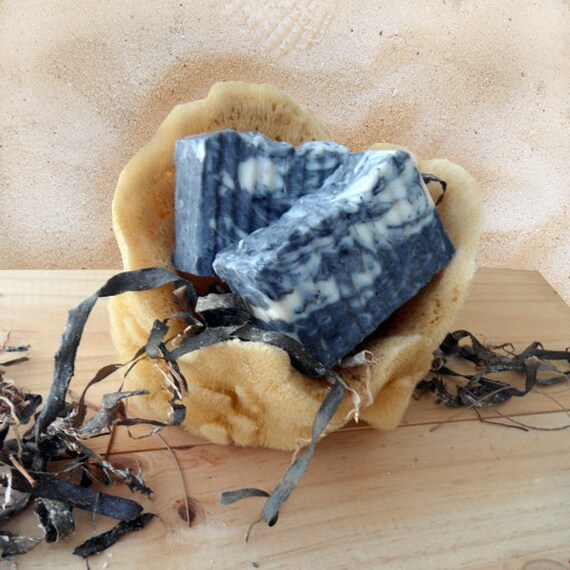 Be sure to enter to win a bar of this luxurious in the Spring Fever Giveaway here...